So I did my monthly summary for January and then decided I did want to add the dates and days from the BIY set. I started to do it once and decided WAY too much time for that detail. A few days later I had this idea that I am going to teach you today and it made it fun and easy to add these!!! Once you get the hang of this you can do it fast and use it for other pages too with lots of layers and tiny elements that you want to keep together to find easily.
So here I have my finished January summary and then I opened the .png of all the dates 1-31...
next we want to be on the dates file and grab your rectanglular marquee tool...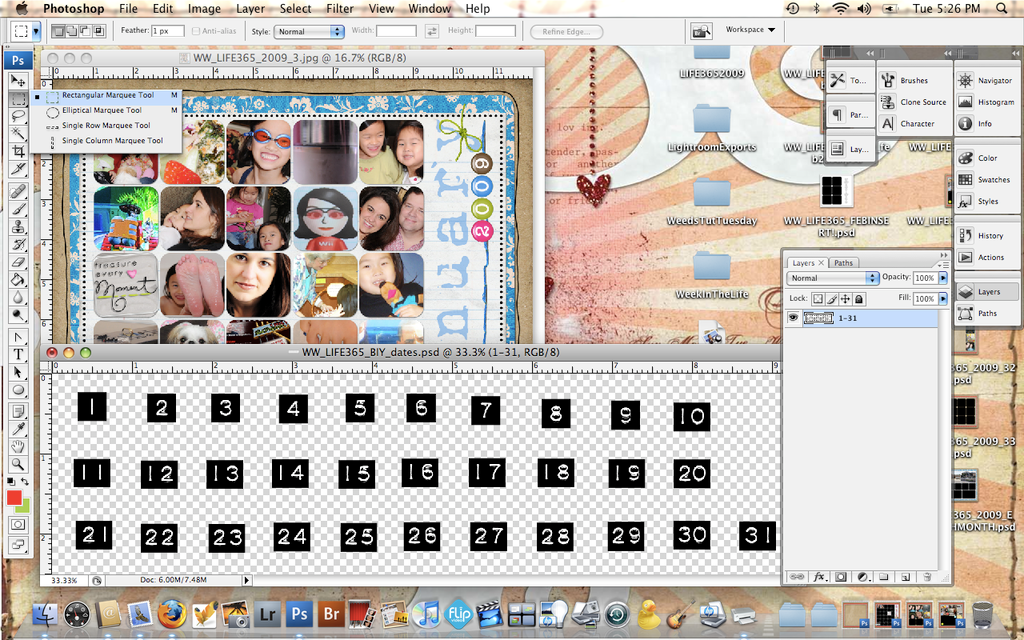 now section off the amount of numbers that you need for the first row...I have days 1-5 up there...
once they are in the rectangle I do COMMAND J or you can do LAYER - NEW - LAYER VIA COPY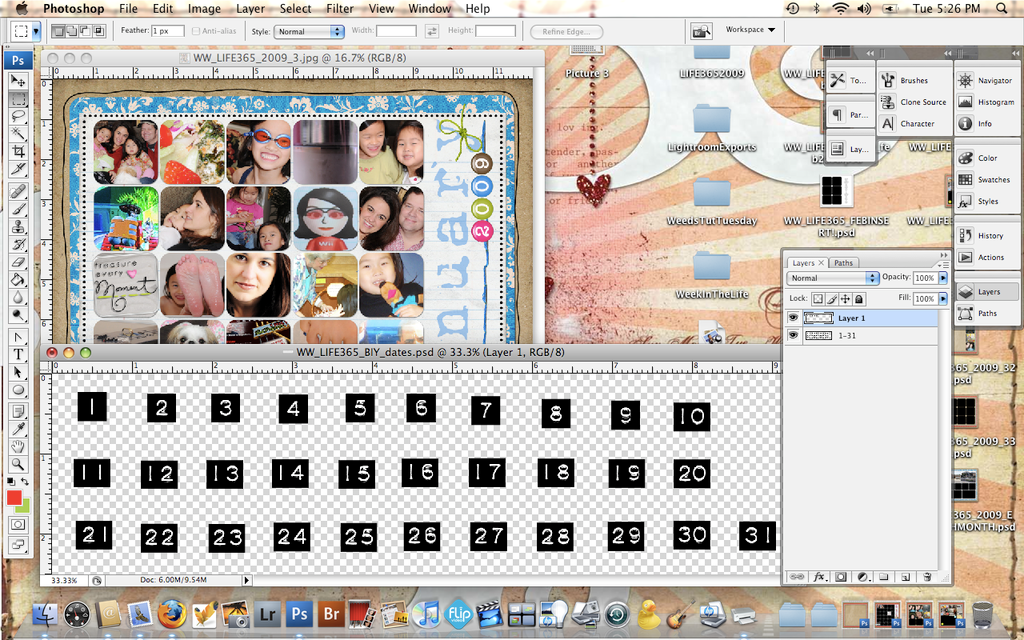 then drag the layer of numbers 1-5 that you copied into your monthly summary...see them there all together so NOT in their right places but close to it!
now I grab the move tool (the arrows left/right/up/down) and I move that whole block only paying attention to where I want the 1 to be...
there I have my 1 lower right of the image for Day 1 right where I want the 1 but I so don't need 2,3,4,5 there :)
so to separate those off and move the 2-5 I go get the rectangular marquee tool again...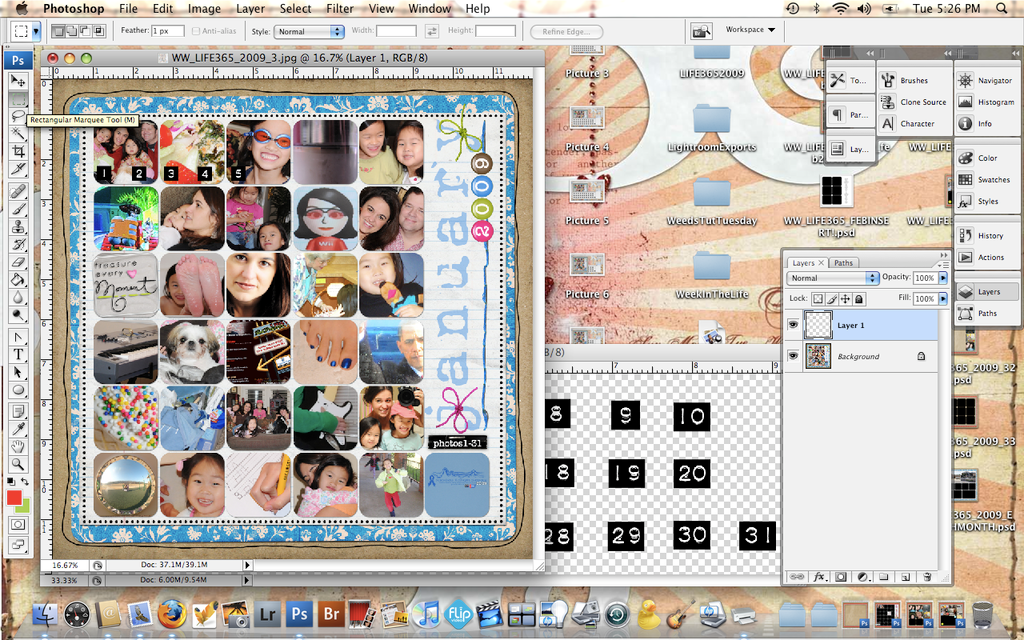 and just put a box around 2,3,4,5...
NOW YOU KNOW ALL YOU NEED TO KNOW TO DO THIS WHOLE PAGE! You do! You are set and could stop reading right here but in this tut I am taking you all the way through to give lots of practice to those that might want it.
so go back and get your move tool and move this block of 2-5 only paying attention to the 2 and where you want it!...
all set 2 is in place...
so without the images but you know how!!! I put 3,4and5 in the places I wanted them...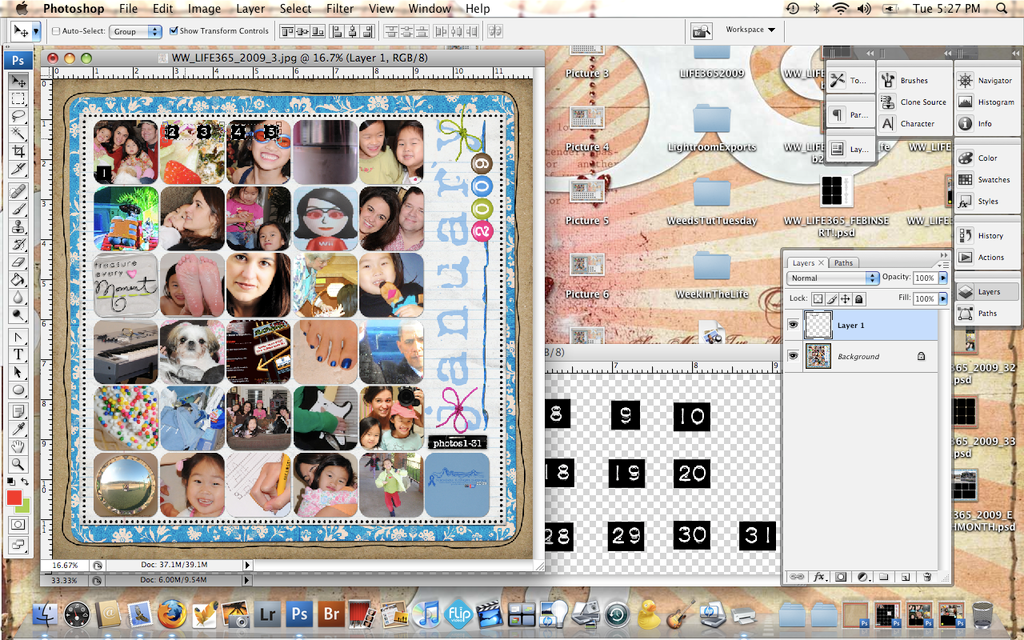 now I need 6-10 for my second row...go back to your dates .png and make sure to get back on the main layer, not the layer you copied 1-5 to....if you try to copy 6-10 after putting a rectangle around them and it says it can't there is nothing there...you know you are on the wrong layer :)
there Layer 2 has 6-10...
OK...this would take 3 days to load if I showed each step and since they are all the same...I am jumping now to when I needed 20-24...they are separated on the .png date file...can I still just grab those? I can't in one drag because a bunch of other numbers try to come along! BUT if you will put a square around the 20 and then hold down SHIFT and go to the next part you want to include and put another square...it will take those together when you copy the layer.
I drag them into the my monthly summary and there is 20 off by itself so I just use the square on it to move it to my 20 day spot...
I get it all over and gracious I have two numbers for the last day! Love finding an mistake! NOT but oh well :) I merged all of my date layers together to make moving them around easy...I merged the layer by going to the bottom date layer then holding shift and going to the top date layer then COMMAND E or LAYER - MERGE LAYERS (this will merge every layer you have in blue together)
I had to go to my blog to see my pages and figure out what day was what...I was just curious at this point. :)
I realized then I had forgotten the day of towels hiding under the wordart AND I had accidentally added two photos for the 14th! But this would be NO BIG DEAL! I was not redoing all those days...it was OK for the 12th to be missing on the summary and we are keeping this fun and EASY right! ;)
I just grabbed my 11 and 12... to move them over with the wordart...
stick my day 14 number between the two oopsie pictures and the dates are done! :)
Now I am so loving adding these extra touches I want to put what day of the week is each box...I use a different moving approach...the usual one that for 31 numbers just seemed to be TOO MUCH! :) Since I was going to be using the same 7 over and over it seemed easier to put each day on it's own layer on the days file by doing the rectangle and then COMMAND J or LAYER - NEW - LAYER VIA COPY... I then renamed them so I could see easily which layer I wanted to drag over... pulled them over and put them in place and was done!
For my days of the week file...when I closed that I saved it as a .psd or you could save it as a .tif and don't compress layers and next month I have those ready to go and just move over.
But here is my finished page after all the fun additions!
Ask any questions or add any tips you have for this trick! Thanks for hanging in and being a part of this fun and friendly community!
(((hugs)))